Hero: Small leather academia crossbody bag / Etsy: IsaLeatherStudio
Your fashion closet is a treasure trove of possibilities, holding the key to your unique style expression. The perfect passepartout items lie within its doors—versatile and timeless pieces that effortlessly form the foundation of countless outfits.
In this article, we will explore more of the significance of these essential items and guide you on the journey of curating the perfect collection for your fashion closet.
Understanding Passepartout Items
In the world of fashion, Passepartout items are the unsung heroes. These versatile pieces can adapt to any occasion, effortlessly transitioning from day to night, casual to formal. They are the backbone of a well-rounded wardrobe, allowing you to create many looks with minimal effort.
Passepartout items are not confined to specific styles or trends. Instead, they encompass timeless essentials that can be mixed and matched, effortlessly elevating your outfits. These items are the reliable workhorses of your closet, providing a solid foundation for expressing your style.
Critical Characteristics of Passepartout Items
1. Versatility
One of the defining features of Passepartout items is their incredible versatility. They can be styled in numerous ways to suit different occasions and moods. A single piece can be transformed into various outfits, maximizing its potential and ensuring you always have the perfect ensemble.
Consider a classic white button-down shirt. It can be tucked into a pencil skirt for a polished office look or untucked with jeans for a relaxed yet put-together vibe.
This versatility allows you to create a range of outfits with just one item, making it a valuable addition to your fashion closet.
2. Timelessness
Passepartout items transcend fleeting trends and fads. They possess a timeless quality that remains unaffected by the ever-changing fashion landscape. These pieces have a lasting appeal that stands the test of time, ensuring that your fashion choices remain relevant and sophisticated.
For example, the little black dress (more on that below) is an iconic passepartout item. It has been a staple in fashion for decades, thanks to its timeless elegance and versatility. The LBD can be styled in various ways, from pairing it with statement accessories for a glamorous evening look to layering it with a blazer for a professional setting.
Investing in timeless items ensures that your fashion closet remains relevant beyond the latest trends, allowing you to build a collection of pieces that will continue to be fashionable for years.
3. Quality
Investing in high-quality passepartout items is essential. Well-made pieces not only exude a sense of elegance but also ensure longevity. They are crafted with attention to detail, using premium materials that withstand wear and tear. Choosing quality over quantity creates a fashion closet filled with enduring items that will serve you for years.
Quality is particularly important for a tailored blazer or leather jacket. These pieces require craftsmanship to ensure the perfect fit and durability. Investing in well-constructed items guarantees they will maintain their shape, color, and overall aesthetic appeal even with frequent wear.
Must-Have Passepartout Items for Every Fashion Closet
1. The Little Black Dress (LBD)
The iconic LBD is a cornerstone of every fashionista's wardrobe. Its simplicity and versatility make it suitable for a wide range of occasions. From cocktail parties to date nights, the LBD can be dressed up or down with accessories and footwear, ensuring you always make a chic statement.
Ultra feminine 50s aesthetic LBD / Etsy: PrincessDenimSkirt
When selecting an LBD, consider the silhouette that most flatter your body shape. Whether it's a fitted sheath dress, an A-line silhouette, or a wrap-style dress, choose one that makes you feel confident and comfortable.
Opt for classic fabrics like black crepe or matte jersey, as they have a timeless appeal and drape beautifully on the body. With the right accessories and footwear, your LBD can effortlessly take you from a formal event to a night out with friends.
2. Classic White Button-Down Shirt
A crisp white button-down shirt is a timeless staple that seamlessly transitions from professional to casual settings. Its versatility simply lies in its ability to be styled in countless ways. You can pair it with tailored pants for a sophisticated office look, or knot it at the waist and pair it with jeans for a relaxed yet polished ensemble.
When choosing a white button-down shirt, pay attention to the fit. Look for one that skims your body without being too tight or loose. Opt for high-quality cotton or silk fabrics that provide a polished look and feel comfortable against the skin. Experiment with different styling options, such as rolling up the sleeves or leaving a few buttons undone, to add a personal touch to this classic piece.
3. Tailored Blazer
A well-fitted blazer adds instant sophistication and structure to any outfit. Whether it's a classic black blazer or a statement color, this versatile piece is a must-have for your fashion closet. Layer it over a blouse and trousers for a sleek office ensemble, or throw it over a dress for a touch of elegance. The tailored blazer is a versatile piece that effortlessly elevates your style.
Casual linen blazer via IG @leau_et
When shopping for a blazer, focus on fit and construction.
Look for one that nips in at the waist and has well-defined shoulders. Pay attention to the fabric, ensuring it is of good quality and has a flattering drape. A well-tailored blazer can instantly elevate a casual look or add a polished touch to a dressy outfit, making it a versatile passepartout item.
4. Dark Wash Jeans
Dark wash jeans are a true wardrobe workhorse. Their versatility allows them to transition from day to night seamlessly. Pair them with a blazer and heels for a smart-casual look, or dress them down with a cozy sweater and sneakers for a laid-back weekend outfit.
When selecting dark wash jeans, consider the cut that suits your body shape and style. Choose a silhouette that makes you feel confident and comfortable, whether a skinny fit, straight leg, or bootcut.
Opt for high-quality denim with a slight stretch, as it provides both comfort and durability. Dark wash jeans are a timeless essential that can be dressed up or down, making them a valuable addition to your fashion closet.
5. Leather Jacket
No wardrobe is complete without a timeless leather jacket. This edgy and versatile piece adds instant cool to any outfit. Pair it with jeans and boots for an effortlessly chic look, or layer it over a floral dress to add an unexpected twist.
Oversized leather biker jacket via Bazhane Boutique (online and on Etsy)
When investing in a leather jacket, consider the style and fit that aligns with your aesthetic. Whether it's a classic biker jacket with hardware details or a sleek, minimalist design, choose one that resonates with your sensibility.
Opt for genuine leather for its durability and long-lasting appeal. A well-fitted leather jacket can be your go-to piece for adding an edgy touch to any outfit, making it a timeless passepartout item.
6. Versatile Bag
Picture this: You're getting ready for a fabulous day ahead, putting together the perfect outfit that effortlessly captures your style. You've got the classic little black dress, the crisp white button-down shirt, the sleek tailored blazer, the trusty pair of dark wash jeans, and the edgy leather jacket. But what's missing? A versatile bag that ties it all together!
Enter the unsung hero of every fashion closet: the versatile bag. It's not just an accessory; it's a game-changer. Imagine a medium-sized tote or a stylish crossbody bag elegantly hanging by your side, ready to accompany you on all your daily adventures.
This bag is your ultimate companion, seamlessly transitioning from day to night easily. Whether you're conquering the boardroom, running errands, or enjoying a night out on the town, it's there for you. Its neutral color, whether black, brown, or nude, effortlessly complements any outfit you choose to rock.
Hand-crafted leather tote / Etsy: TheFlorenceLeather
But it's not just about style—it's about practicality too. With multiple compartments and pockets, this bag keeps you organized and ensures your essentials are always within reach. No more rummaging through a bottomless pit of a bag, searching for your keys or phone!
Investing in a high-quality bag is a must. It's the finishing touch that adds a touch of sophistication to your ensemble. Look for impeccable craftsmanship and durable materials that will withstand the test of time. After all, your fashion closet deserves nothing but the best.
If you're in search of the perfect medium tote bag, check out this fabulous option, medium tote bag. With its impeccable design and functional features, it's bound to become your new go-to accessory.
With the little black dress, the classic white button-down shirt, the tailored blazer, the dark wash jeans, the leather jacket, and the versatile bag by your side, you'll have the power to create endless fashion combinations. From casual outings to glamorous nights, you'll be ready for anything that comes your way.
Briefcase tote from tan leather / Etsy: IsaLeatherStudio
Building a Passepartout Collection
Curating a collection of Passepartout items requires thoughtful consideration and personal style exploration. Start by evaluating your lifestyle, preferences, and fashion needs. Consider the types of occasions you frequently encounter, the dress codes you must adhere to, and the colors and silhouettes that make you feel confident.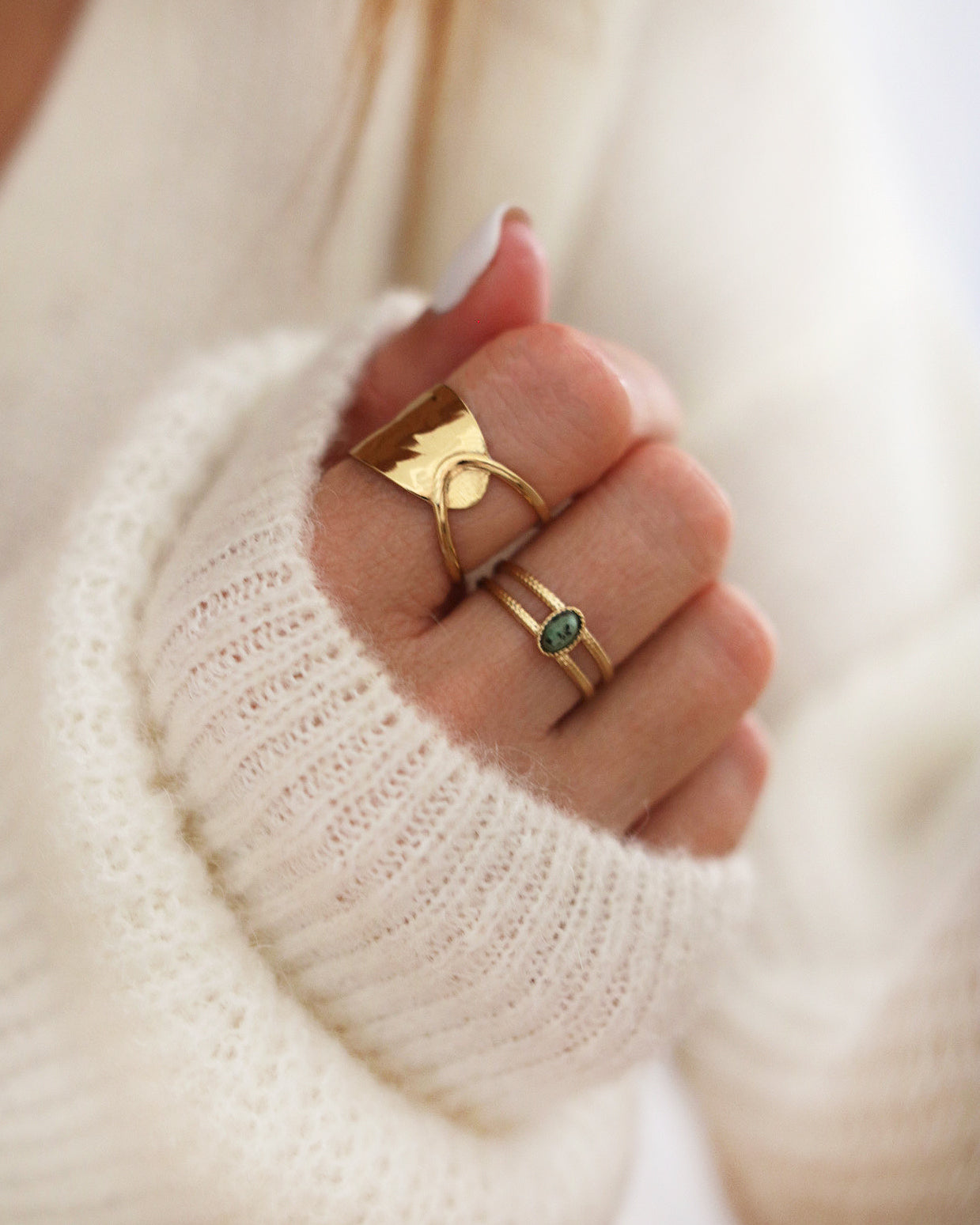 Jewelry stack by Bague Aya
Strive for a balance between classic, timeless items and pieces that reflect your unique personality and style. Consider incorporating versatile accessories like statement belts and scarves, which can transform your outfits and add a personal touch.
When building your passepartout collection, remember to invest in quality pieces. While they may come with a higher price tag, the durability and longevity of well-made items are worth the investment. Look for reputable brands known for their craftsmanship and attention to detail.
Additionally, don't be afraid to mix and match your passepartout items with trendier pieces. This allows you to stay current while maintaining your fashion closet's foundation. The key is to strike a balance between timeless essentials and seasonal trends.
Benefits of Having Passepartout Items
1. Time-saving
A well-curated collection of Passepartout items saves you valuable time in the mornings. With versatile pieces, you can effortlessly mix and match outfits, eliminating the need for lengthy decision-making processes. This streamlined approach to dressing allows you to start your day easily and confidently.
2. Cost-effective
Investing in quality passepartout items proves to be a financially savvy decision. These timeless pieces transcend trends, allowing you to wear them repeatedly without fear of them going out of style. Building a wardrobe centered around these essentials reduces the need for frequent shopping sprees and impulsive purchases, ultimately saving money in the long run.
3. Sustainable
In an era of fast fashion, adopting a collection of Passepartout items promotes sustainable consumption practices. Investing in high-quality pieces that withstand the test of time minimizes the waste created by constantly discarding and replacing clothing. It's a conscious step towards a more eco-friendly and responsible approach to fashion.
Conclusion
In the vast world of fashion, the perfect passepartout items are more than just clothing pieces; they are like trusty companions, always ready to support and elevate your style. These versatile and timeless essentials form the backbone of your fashion closet, enabling you to effortlessly create countless outfits for any occasion. By understanding the characteristics and benefits of these items, you can curate a collection that reflects your personal style and ensures you're always prepared to make a fashionable statement.
So, embrace the power of these wardrobe essentials and unlock their limitless potential. Step into a world of effortless style and versatility where your fashion choices know no bounds. With the perfect passepartout items, your fashion closet will become a wellspring of inspiration and endless possibilities.
And speaking of style, why not complement your impeccable fashion sense with beautiful aesthetic makeup looks that will look great on Instagram? Enhance your overall look and express your unique style through the art of makeup. Check out this fantastic guide on "Beautiful Aesthetic Makeup Looks That Will Look Great on Instagram." Discover the latest trends, techniques, and color palettes to elevate your makeup game.
With your fashion closet and makeup arsenal in perfect harmony, you'll have the tools to create stunning ensembles and capture the fashion world's attention. So, go forth, embrace your individuality, and let your fashion and makeup choices become a true reflection of your style and personality.
Remember, the world of fashion is yours to conquer. Embrace your inner fashionista, and let your style shine bright like a diamond!
---